REGULAR EVENTS
Crib - League games every Monday
"Cribbage was created by English poet Sir John Suckling in the early 17th century, about the time the pub was built"
Games are played at home or away why not come along and join us new players are always welcome
Pool - League matches every Wednesday and Thursday
"Pool a familiar game in 1600 mentioned in Shakespeare's play Anthony and Cleopatra"
Fancy a game why not come along matches are played home and away but the teams are always here before a match and as we have 3 teams you are sure to find a match in progress. At all other times the pool table is available for games which are free to all our customers.
Thursday Night - Steak Night
8oz Steak and all the trimmings, Rump 10.00, Sirloin 12.00
Friday Night - Fresh Fish & Chips
Plus a drink - £10.00
Take away Fish & Chips Wed to Sat from 5 – 9 pm £8.00
ANNUAL EVENTS
The Three Ways Summer Festival
Saturday 18th August 2018 MUsic in the Garden, Pop up Beer festival & Traditional Tapas & Paella, if you wish to eat pls book a table Paella will be pre order only,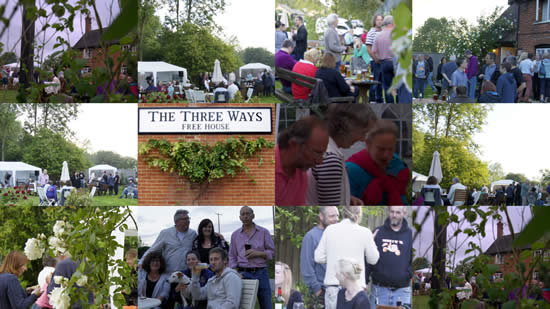 The Cowlinge Shoot Syndicate and Clay Club
During the winter months the Cowlinge Shoot Syndicate enjoys seasonal weekends of fun and sport, before relaxing by the log fires at The Three Ways with a great pint followed by a hearty Shoot dinner.

During the summer months The Cowlinge or 'Three Ways' Clay Club offers an out of season shooting experience. interested come along to the pub to find out more new members always welcome.


Christmas Party Night
We offer a Christmas Party Menu throughout December with a special Party Night on Saturday December 16th 2017 contact us for details Saturday 16th now fully booked contact us for other dates

see menu
New Years Eve
Music, party poppers, bubbly at midnight in the Bar
Celebration Dinner in the restaurant £28.50 booking now to see 2018 in

see menu
Mothers Day
The best Traditional Sunday lunch a wonderful 4 course treat for Mother

Heritage Walks
We are on the Heritage Walk route a great day for all the family We also offer a great watering hole for walking parties with sumptuous lunches for the hungry
Walk from Wickhambrook to Cowlinge followed by Sunday Lunch at the Three Ways a great way to spend Sunday
.