OPENING TIMES

Wednesday
5 - 10 pm
Thursday
5 - 10 pm
Friday
5 - 11 pm
Saturday
5 - 11 pm
Sunday
12 - 6 pm
Monday
Closed
Tuesday
Closed

FOOD SERVED

Wednesday
6-9pm Restaurant & Take-Aways
Thursday
6-9pm Restaurant & Take-Aways
Friday
6-9pm Restaurant & Take-Aways
Saturday
6-9pm Restaurant & Take-Aways
Sunday
12-3pm Restaurant and Take-Aways
Monday
Closed
Tuesday
Closed
Open lunchtimes and other days for bookings and events of 6 or more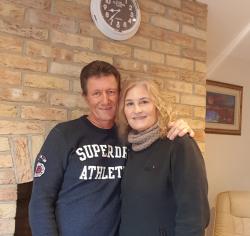 Welcome to The Three Ways, a small country freehouse dating back to 1643. On venturing inside you discover a rustic charm unchanged by time, with original wooden beams and inglenook fireplaces. The main bar and restaurant project an ambience of warmth & comfort; the ideal place to enjoy a meal or drink with friends and family or to celebrate a special occasion.
Hi all! With more and more people shielding from covid-19 we have decided to launch an offer that will benefit all. Not only are PIZZA'S back on the menu but for every £20 you spend on a Take-Away, you get either a 2-litre fizzy drink or a bottle of beer. We are now also adding delivery for a small fee, for those that do not want to come out at all. Cowlinge will be £2 and £3 and £4 for villages a bit further. We look forward in serving our community with our delicious food. Place your orders on 01440 820 355.


We are excited to launch our delicious Christmas menu. With a fire crackling in the background and festive Christmas atmosphere, you are in for a treat. A deposit of £20 per person will be payable with all bookings. However all deposits will be refunded in full if covid-19 prevents us from hosting this event. We will ensure that the safety measures concerning covid-19 will be adhered to. Call now to avoid disappointment. 01440 820 355.
Don't forget to reserve your table for our Traditional Sunday Roast.
Still open for Take-Aways!
CALL NOW to place your order.
01440 820 355


The Three Ways offers quality homecooked food, a changing selection of 5 'Real Ales' and an excellent range of fine wines. The Three Ways is a CAMRA award winning pub with a Five Star Health & Hygiene rating & a Five Star Cellar Quality Rating